Co-op to sell 298 stores to McColl's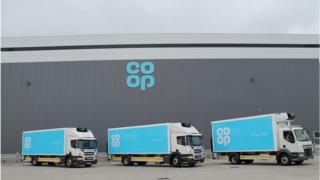 Co-op Group has agreed to sell 298 of its food stores to McColl's for £117m.
Co-op is looking to boost sales of its own-label goods and said the stores sold to McColl's were too small to stock a full range of those products.
Ideally the company wants stores of between 3,000 and 3,500 sq ft and the sites sold to McColl's had an average size of 1,700 sq ft.
Staff working at those stores will keep their jobs under the same employment terms and conditions.
"Today's announcement is completely in line with our strategy, as these stores did not allow us to provide a sufficiently compelling own-brand offer for our members going forwards," said Steve Murrells, chief executive of Co-op Food in a news release.
"The proceeds will be re-invested to drive sustainable growth for our members and I'm delighted that all 3,808 colleagues will transfer to McColl's on the same terms and conditions," he added.
The deal will require approval from competition regulators and McColl's shareholders.
Membership boost
By 2018 Co-op Group wants to attract 1 million more members, which would take the total to over 6 million.
To help meet that target, later this year it plans to launch an improved discount deal for members.