Interest rates could be cut to new low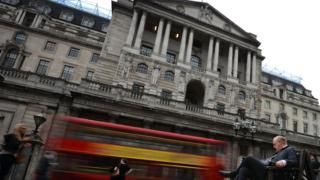 The Bank of England could make the first cut to UK interest rates in more than seven years on Thursday.
Mark Carney, the Bank governor, has indicated that the Monetary Policy Committee (MPC) would vote to cut rates in July or August.
The probable reduction from 0.5% to 0.25% is intended to boost the UK economy in the wake of the Brexit vote.
Although a cut is not certain, financial markets put the probability at about 80%.
Ben Brettell, senior economist at Hargreaves Lansdown, said: "Initially August had looked more likely, but with economic data deteriorating and markets still nervous, it now looks probable the MPC will adjudge that immediate action is warranted."
Surveys for both the services sector and the construction industry have pointed to a sharp slowdown, with the latter recording its worst month in seven years for June.
However, Joshua Mahony, market analyst at IG, said the lack of economic data since the referendum could prompt the Bank to hold fire: "There is a significant possibility that Mark Carney will disappoint by postponing a rate cut until the August meeting."
Howard Archer, chief economist at IHS, said the Bank could use other methods such as quantitative easing - also known as "printing money" - as well as cutting rates. Quantitative easing has not been used since November 2012.
The Bank has already announced measures to help cushion the Brexit blow, relaxing rules to let banks lend as much as an additional £150bn.
Interest rates have been unchanged since the Bank cut them to a record low of 0.5% in March 2009 at the height of the financial crisis.
Some economists believe that rates could even be cut to zero as soon as August.
Savings blow
However, Mr Carney has said he did not favour rates falling any lower than 0.25% - or below zero.
A rate cut would be good news for borrowers, saving £26 a month on a £200,000, 25-year repayment mortgage, according to the Council of Mortgage Lenders.
Using Office for National Statistics (ONS) house price data, a cut to 0.25% would mean a £22 monthly reduction in the bill for a variable 25-year repayment mortgage on a typically priced home of £209,000 (taking a 20% deposit into account).
For an average outstanding mortgage of £116,000, the saving will be about £15 a month.
Only about 1.5 million mortgages are trackers that, for the most part, follow the movements in the Bank base rate. The cost of new fixed rate deals has been falling already and a cut should mean further reductions, and variable rate deals are likely to be reduced in many cases too.
However, it would mean even lower returns for savers.
Hargreaves Lansdown said the average instant access savings account had gone backwards in real terms since the reduction to 0.5%, falling behind the consumer price index of inflation by more than 12%. Savers have lost out on interest worth an estimated £160bn on cash accounts since October 2008, the firm added.
Some "best buy" savings deals have been withdrawn from the market in recent days, according to Moneyfacts.co.uk.
There have been more than 900 cuts to savings rates since the start of the year, with only about 100 increases.
The average rate for a two-year fixed bond has fallen from 1.75% a year ago to just 1.39% in July, while the average easy access Isa that paid 1.12% a year ago now paid less than 1%.
---
Have you got a tracker mortgage and expect to benefit from any drop in interest rates? Or are you looking to buy a house and hoping to get a good mortgage deal?
Please share your views with us. You may email at haveyoursay@bbc.co.uk
Please include a contact number if you are willing to speak to a BBC journalist. You can also contact us in the following ways:
Send an SMS or MMS to 61124 or +44 7624 800 100
Contact us on WhatsApp number +44 (0)7525 900971
Read our terms and conditions.