Investment boost for biggest mixed martial arts firm in Asia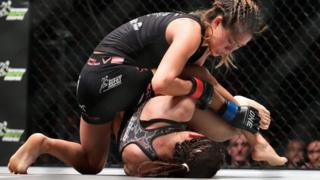 Asia's biggest mixed martial arts (MMA) firm, ONE Championship, said it has secured investment worth tens of millions of dollars.
The deal is with a subsidiary of Singapore state investment fund Temasak, said ONE Championship.
Global popularity of MMA is on the rise, and the firm organises fights across Asia.
Earlier this week, US-based Ultimate Fighting Championship was sold for $4bn (£3m).
While the investment sum for ONE Championship has not been disclosed, the BBC has learned that "it's an eight-figure sum".
MMA is one of the fastest-growing and most controversial sports in the world.
It combines techniques from wrestling and martial arts. It is banned in France but attracts millions of television viewers across the globe.
This week, Ultimate Fighting Championship (UFC), a US based MMA promoter, was sold to a group of investment and equity firms in one of biggest ever price tags for a sports brand.
Victor Cui, chief executive of the Singapore-based ONE Championship told the BBC that the investment from Heliconia would go into plans to develop the martial arts events beyond the current Asia focus to bring them to a global audience.
"Our alliance with Temasek and Heliconia will unlock additional markets and opportunities for ONE," he said.
Heliconia Capital Management is a wholly owned subsidiary of Temasek, an investment company owned by the Singapore government.