US shares follow Europe higher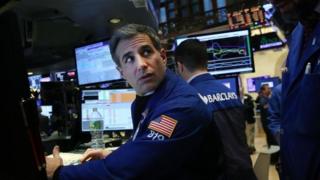 (Open): US shares opened higher on Thursday, encouraged by strong gains in Europe and some encouraging reports on the US economy.
PepsiCo gained 2% after reporting stronger numbers than expected.
Bond prices, gold and utilities stocks fell as investors braved their way out of these safer assets.
The Dow Jones rose 40 points to 17,960, while the wider S&P 500 index was up 6 points at 2,105 while the tech-focused Nasdaq climbed 20 points to 4,879.