Japanese shares finish higher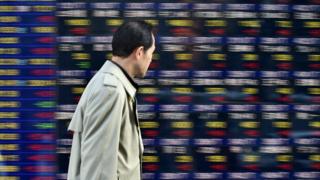 Japanese shares traded higher on Wednesday, leading a mixed picture elsewhere in Asia.
The Nikkei 225 index closed up 1.1% at 16,238.35.
Shares of struggling electronics giant Sharp jumped 7% after news that the company's new owners, Foxconn, plan to close some of Sharp's overseas operations.
Mitsubishi Motors shares fell 0.9% after forecasting significant losses in the wake of a car testing scandal.
In China, the mainland benchmark Shanghai Composite closed down 0.5% at 2,891.96 while the Hang Seng in Hong Kong ended the day 0.35% higher at 20,868.34.
In South Korea, the Kospi index fell 0.3% to close at 1,986.71.
Kia shares though were up 0.1% after the carmaker came top in a closely-watched US ranking of car reliability, pushing German luxury brand Porsche into second place.
In Australia, the ASX 200 finished the day down 0.2% at 5,280.68.