US markets lower as Apple shares fall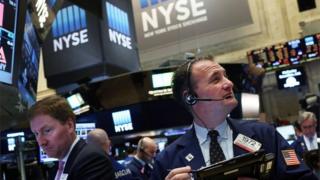 (Close): US markets ended the week lower, with Apple leading the way on worries that the company might have to stop selling its latest iPhone in Beijing.
Beijing's Intellectual Property Office ruled that Apple's iPhone had violated the design patents of a Chinese company. Shares in Apple fell 2.3%.
The Dow Jones Industrial Average fell 58.07 points to 17,675.03.
The wider S&P 500 slipped 6.77 points to 2071.22.
The tech-heavy Nasdaq dropped 44.58 to 4800.34.
Other tech companies followed Apple's lead. Facebook was 1.3% lower, Amazon was down 1.6% and Alphabet fell 2.8%.
The price of crude oil rose more than 4% on Friday sending energy shares up.
Brent crude oil reached $49.29 a barrel and West Texas crude was at $48.14 per barrel.
The move lifted shares Ep Energy Corporation by 11.7%.
Teekay Offshore Partners was the day's biggest winner climbing 17.8%.
Shares of gun maker Smith & Wesson rose nearly 9% on expectations that the company will see a rise in sales. Gun sales in the US typically spike when Americans anticipate the government might pass tighter firearm regulation.
Shares in Oracle rose 2.7% after it reported higher-than-expected quarterly revenues, helped by a big rise in sales at its cloud business.
Total revenue in the three months to 31 May - Oracle's fourth quarter - fell 1% to $10.59bn, but this was better than analysts' forecasts of $10.47bn. Profit rose to $2.81bn, from $2.76bn a year earlier.