US stocks fall after Fed announcement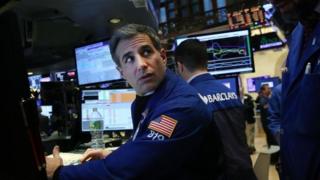 (Close): Wall Street markets fell after the Federal Reserve announced it was keeping interest rates unchanged.
Investors' minds turned back to the upcoming UK referendum on whether to leave the European Union.
Fed chair Janet Yellen said a Brexit could have consequences for global markets and that it was a factor in the Fed's decision.
The Dow Jones Industrial Average dropped 34.65 points to 17640.17.
The wider S&P 500 index lost 3.82 points, falling to 2071.50, while the tech-heavy Nasdaq slid 8.62 points to 4834.93.
Consumer stocks were some of the day's biggest gainers.
Hardware chain Home Depot rose 1%, and shares of Macy's rose 2%.
Nike shares were up 0.35%.
Energy stocks fell on Wednesday as the price of oil dropped. US crude was 2.5% lower, while Brent crude was 2.5% down.
Drilling company Transocean fell 2.3%, while NRG Energy fell 2%.
Shares of Whole Foods fell 4.9% after a report from the US Food and Drug Administration said "serious violations" at one of the company's kitchens may have resulted in food contamination.
Figures released on Wednesday showed US industrial output fell by 0.4% in May, following a downwardly revised 0.6% rise the month before.