Zara owner Inditex posts higher profits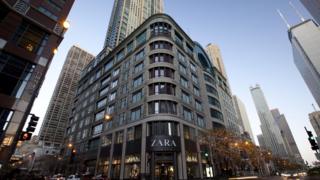 Inditex, the world's biggest clothing maker and owner of chains including Zara and Pull & Bear, has reported better-than-expected quarterly profits.
Net profit rose 6% to €554m ($621m; £439m), ahead of analysts' expectations, for the three months to 30 April, with sales up 12%.
The Spanish group continued to expand, with new stores and websites opening in line with its targets.
Inditex now has more than 7,000 stores in 90 countries.
Shares rose 3.5% in Madrid, but have fallen 8% since the start of the year.
Bernstein analyst Jamie Merriman said: "In a market environment where most retailers are bemoaning the weather, Inditex's results demonstrate the strength of the business model and its ability to deliver superior results."
Currency movements affected the bottom line, however, with Societe Generale estimating that sales revenue would have risen 17% without the negative impact.
Inditex capital markets director Marcos Lopez told analysts that the adverse currency impact should fall in the second half of the year, without giving further details.
Inditex operates eight brands, including Massimo Dutti and Bershka.
Its newest stores include openings in Vietnam, New Zealand, Paraguay, Aruba and Nicaragua. It is planning to be online in all European countries this year.