US stocks fall as Fed meeting begins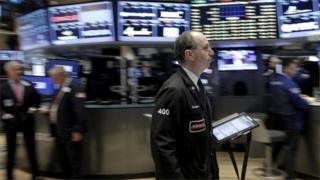 (Close): Stocks on Wall Street fell for a fourth day as investors remained cautious about the outcome of the Federal Reserve's latest policy-setting meeting, which began on Tuesday.
Worries over rising support for the Leave campaign in the UK's EU referendum continued to affect markets.
The Dow Jones Industrial Average fell 57.66 points to 17674.82.
The wider S&P 500 index lost 3.74 points falling to 2075.32, while the Nasdaq index dropped 4.89 to 4843.55.
Figures from the Commerce Department showed retail sales rose 0.5% last month, more than expected.
"This won't spur the Fed to raise interest rates tomorrow, but it could cast a more positive tone on the statement... setting the stage for an increase in July," said Sal Guatieri, an economist at BMO Capital Markets.
But bank shares were lower on the expectation that the Fed will keep rates at their current level.
Citigroup was 2.8% down, while Morgan Stanley fell 2.6% and Wells Fargo dropped 2.3%.
Shares of US credit card companies were also hit on Tuesday.
The country's largest issuer of store brand cards, Synchrony Financial, said an increasing number of its customers were falling behind on their payments. Its shares fell 13%.
However, after Twitter announced a new feature to allow users to retweet their own posts its shares rose 5.6%.