US stocks fall as market nerves persist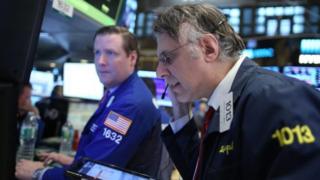 (Closed): Wall Street markets fell as investors remained cautious ahead of the latest Federal Reserve meeting, and with uncertainty over the UK's EU referendum still rattling markets.
The Dow Jones was down 132.86 points to 17732.48.
The wider S&P 500 index slipped 17.01 points to 2079.06, while the Nasdaq fell 46.11 to 4848.44.
Shares in LinkedIn jumped by 47% to $192.21, after Microsoft announced it was buying the firm for $26bn (£18bn).
The software giant is paying $196 a share for the professional networking website. Shares in Microsoft fell 2.6%.
Apple shares were also down, falling 1.5%.
On Monday the tech giant opened its annual software developer conference with an announcement that it was updating the artificial intelligence software for its Siri program.
Facebook shares took a hit after reports that Citron Research was short selling the stock.
Short selling is when investors think the price of an asset, such as shares, will fall.
They borrow the asset from another investor and then sell it in the relevant market. The aim is to buy back the asset at a lower price and return it to its owner, pocketing the difference.
Facebook shares were down 2.3%.
Shares in security firm G4S dropped 5% after it was revealed that the company had employed the gunman, who killed 50 people in a Florida nightclub over the weekend.
The US Federal Reserve meets on Tuesday and Wednesday for its latest decision on interest rates.
However, following the weaker-than-expected US jobs figures in May, few analysts expect the Fed to raise rates this week.
"I think the market is nervous about higher interest rates and frankly about maybe the US economy not being able to get over that last hump to a full recovery," said Jake Dollarhide, chief executive officer of Longbow Asset Management.