Japan's Nikkei falls 3.5% as yen strengthens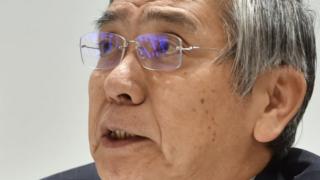 Japan's benchmark Nikkei 225 finished Monday's session down 3.5% at 16,019.18 as a rise in the value of the yen hurt big exporting companies such as Toyota.
Investors remained cautious ahead of meetings later this week by the US Federal Reserve and the Bank of Japan, although no rate cuts are expected.
Uncertainty over the UK's EU referendum is also affecting the markets.
The yen is often regarded as a haven in times of uncertainty, and the dollar weakened to below 106 yen.
Shares in Toyota closed down by more than 3.5%, Honda's shares were 4% lower, while Nissan's fell by 4%.
The Nikkei's close on Monday marks a five-week low and the third straight session of losses.
In China, markets followed the downward trend. Hong Kong's Hang Seng index closed down 529.65 points, or 2.5%, at 20,512.99, while the Shanghai Composite ended 3.2% lower at 2,833.07.
Among a raft of economic data released by Beijing earlier, figures showed that growth in China's fixed-asset investment - a key measure of infrastructure spending - slowed in the January-to-May period.
Investment increased by 9.6% from the same period a year earlier, but this was the first time the rate had fallen below 10% since 2000.
Separate figures showed Chinese industrial output grew at a rate of 6% in May compared with a year ago. The industrial output numbers were in line with most expectations and unchanged from the previous month.
Retail sales in China grew 10% in May from a year earlier, also in line with most expectations.
South Korea's benchmark Kospi index closed down 1.9% at 1,979.06.
In Australia, stock markets are closed for the Queen's birthday long weekend.