Investor nerves push US stocks lower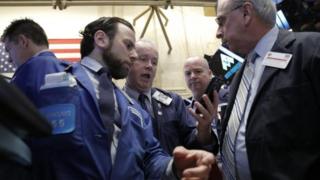 (Closed): Stocks on Wall Street slid as investors were rattled by uncertainty over global growth prospects and the UK's referendum on the EU.
The Dow Jones declined 119.85 points to 17865.34.
The wider S&P 500 index dropped 19.41 points to 2096.07, while the Nasdaq was 64.07 points lower at 4894.55.
Government bond yields - which fall when bond prices rise - dropped as investors sought safer assets for their money.
Analysts said the market was reacting to worries about the 23 June referendum on whether Britain should remain in the EU or leave.
"I think it's the fear factor (on global issues) that is pushing stocks a little bit," Peter Cardillo, chief market economist at First Standard Financial in New York, told Reuters.
"The British exit is beginning to become more of a factor now and that's due to the fact that we have crumbling yields throughout the globe."
Banks had some of the hardest hit stocks. Goldman Sachs fell 2.1% and Bank of America slid 2.4%, while JP Morgan was 1.4% lower.
Energy stocks also tumbled. Conoco Phillips dropped 4.2%.
Southwestern Energy fell 10.8%.
Shares of electric carmaker Tesla slid 4.6%, as the company tried to fend off reports it pressured customers to remain quiet about safety defects.
On the positive side, Verizon rose 1.4% despite rumours that its bid for Yahoo may be out done by phone and internet provider AT&T.
AT&T rose 0.6%.