US shares backtrack after recent gains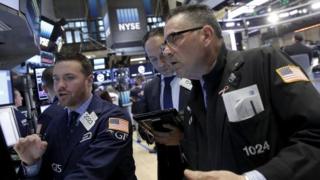 (Closed): Stocks on Wall Street fell on Thursday following a run of three consecutive days of gains.
The Dow Jones fell 19 points to 17,985, while the tech-focused Nasdaq dropped 16 points to 4,958.
The S&P 500 index was 3 points lower to 2,115. On Wednesday the S&P 500 closed just 12 points away from its all-time closing high of 2,130.82.
Shares in banks were among the biggest losers, as the price of long-term interest rates fell.
Shares of Wells Fargo and Bank of America both fell 1.7%, while JP Morgan Chase was down 0.78%.
The Federal Reserve meets next week. It is now widely expected that the central bank will not raise interest rates, a move that could have been profitable for banks.
Energy firms were also among the big losers, Freeport-McMoRan declined 5.9% and Chesapeake Energy fell 1.8%
Investors were responding to a fall in oil prices.
Brent crude fell 1.2% to $51.88 a barrel, while US crude was down 1.5% at $50.44.
Home goods retailer Restoration Hardware saw its share price drop 21% after reporting a drop in earnings.
JM Smucker on the other hand saw an 8% jump in its shares after it reported a $191m profit for the fourth quarter.
Smucker, which owns Dunkin' Donuts and Pillsbury, had better than expected sales in its coffee and pet food divisions.
Shares of Yahoo also rose after rumours surfaced that several potential buyers are bidding $5bn or more for its core business.