Energy stocks lead Wall Street higher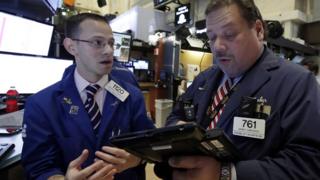 (Close): US markets were mostly higher on Tuesday as the price of oil climbed above $50, boosting energy shares.
The Dow Jones rose 17.95 points to 17,938.2, while the wider S&P 500 index added 2.7 points to 2,112.1 - the highest close since 22 July last year.
The tech-focused Nasdaq sank 6.9 points to 4,961.7 as shares of two major biotech companies fell.
Disruptions to crude supplies in Nigeria lifted oil prices.
Brent crude rose 1.7% to $51.43 per barrel, while US crude climbed 1.5% to $50.42.
The news sent Chevron shares up 2.1%, while ExxonMobil gained 1.5%.
Elsewhere shares in Valeant Pharmaceuticals dived 14.6% after the company reported a first-quarter loss and also cut its full-year profit guidance.
Biotech companies Biogen and Alexion Pharmaceuticals both suffered big declines after reporting disappointing clinical results. Biogen was down 12.8% and Alexion fell 10.9%.
Shares in fashion brand Ralph Lauren fell 2.4% after it announced restructuring plans aimed at saving $180m to $220m a year.
The company also projected lower net sales for 2017. In a note Credit Suisse said Ralph Lauren's outlook suggested that profits would remain weak until the 2018 financial year.