Jaguar Land Rover sales lift profit at Tata Motors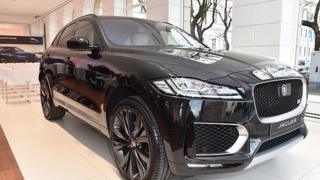 Strong sales of the luxury brand Jaguar Land Rover (JLR) have lifted profits at Tata Motors.
India's biggest carmaker saw quarterly profit triple to 51.7bn rupees ($771m; £527m) from 17.17bn in the same quarter last year.
JLR sales rose 28% in the three months to March, with the biggest increase in sales in Europe.
Chinese sales, which had been suffering, rose 19% in the quarter, but are down 16% for the year as a whole.
Insurance payout
Tata Motors also benefited from increased domestic demand for its trucks.
The firm announced that it plans to recall 100,000 JLR cars in the US to fix a fault with the airbags made by Japan's Takata, and has set aside £166m in part to pay for it.
But it gained from an unexpected insurance payout linked to an explosion at the JLR plant at its Tianjin plant in China last summer, in which it lost 5,800 cars.
Tata Motors, part of the group that owns Tata Steel, bought JLR from Ford in 2008 for $2.3bn (£1.6bn).