Nationwide profits rise to £1.3bn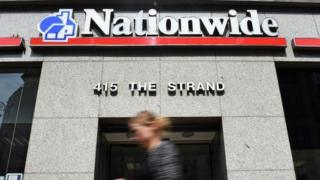 Nationwide building society has reported a 23% rise in full-year pre-tax profits to £1.3bn.
The building society reported a profit of £1.04bn a year earlier.
The society's new chief executive, Joe Garner, who took over last month, said the results showed strong mortgage lending and strong savings inflows.
He said that Nationwide offered "outstanding customer service" and added that it was his job to build on this success.
The society said that "uncertainty surrounding the EU referendum and the global economic outlook" would be likely to have some impact on UK economic activity in the near future.
However, it added: "We expect the housing market to remain resilient, with any dampening of activity from modest increases in interest rates offset by a strengthening labour market and an under supply of housing."
Nationwide said it had seen its net mortgage lending rise 28% to £9.1bn, from £7.1bn the year before.
Over the past four years, it had accounted for 36% of net mortgage lending in the UK, reinforcing its position as the country's second-largest mortgage lender, it added.
Last year member deposit balances rose by £6.3bn, as against an increase of £1.9bn in the previous year.
"More people are also choosing to manage their money with Nationwide, with over half a million new current accounts opened in the year," said Mr Garner.