Weak export figures dampen Japan shares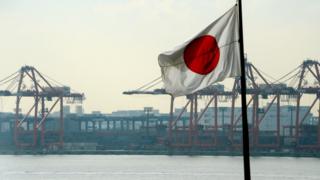 Japanese shares have been pulled down by a sharp drop in the country's exports, which fell for the seventh consecutive month.
Exports from Japan fell by 10% in April compared with the same month the previous year.
Imports plunged 23%, putting the trade balance at a 823bn yen ($7.5bn, £5.2bn) surplus.
The benchmark Nikkei 225 index fell 0.5% to close trading at 16,654.60 points.
The weak trade data is thought to be mainly due to poorer demand from China and other emerging economies.
Shares in Japan Tobacco fell by 1.4% as the world's largest insurer, Axa, announced it would stop investing in the tobacco industry.
Mainland China's Shanghai Composite rose by 0.6%, to close at 2,843.65 while Hong Kong's Hang Seng traded flat and closed at 19,809.03.
In Australia, the benchmark ASX/200 dropped 0.6% to finish at 5,318.90 points.
South Korea's Kospi index rose 0.4% to close at 1,955.25.