Co-op to bring back members' dividend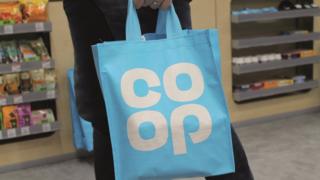 The Co-operative has unveiled plans to bring back an annual payout for its millions of members.
The group suspended the dividend in 2014 when it posted huge losses.
As part of a major refresh, which also involves reviving its 1960s blue clover logo, the Co-op now plans to reintroduce the members' dividend by 2018.
Before then, Co-op will hand back £100m a year in other benefits to its eight million members.
Co-op chief executive Richard Pennycook said: "This is what the Co-op is all about. Big business is often accused of taking money out of communities - we are putting it back in as we champion a better way of doing business for our members and their communities.
"Our intention is to return to paying a dividend again, but we also want to make the rewards for members who trade with the Co-op more meaningful and community focused."
Good causes
From this autumn, Co-op members will be credited with 5% of the value of their purchases of Co-op own brand services, including food and funeralcare. The Co-operative Bank will not be included.
The rewards, which are separate to the dividend, will go into the member's account and can be used for Co-op branded food and services in the future.
A further 1% will be given to members for donations to good causes.
More than eight million people have a Co-op members card, although about a third of them do not actively use their membership.
The clover leaf logo was phased out in the 1980s but will be gradually restored over the next few years.
Mr Pennycook said last month the business was back "in calmer waters" after it reported a £23m profit.
That compares with a £2.5bn loss in 2013 when deep problems emerged with its bank, which it has since largely sold off.
The Co-op has 3,750 outlets, including food stores and funeral homes, in the UK and annual sales of about £10bn.