Post Office to cut more than 500 jobs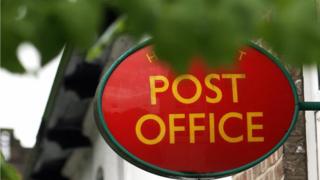 The Post Office is to shed more than 500 jobs in its cash handling business.
The cuts will affect staff who deliver cash and valuables to post offices and other companies and those who process cash.
The Communication Workers Union said the cuts were a direct result of the Post Office pulling out of external cash transit work.
The Post Office said it was briefing the teams affected by proposed changes in its supply chain division.
"These people should of course be the first to learn of our proposals, so we cannot comment further until these briefings are complete," it added in a statement.
"As part of our journey towards building a commercially sustainable Post Office, we are looking at every aspect of how we operate. It's our responsibility to ensure that we have a business that is set up to thrive over the long term and can continue to provide important services to communities all over the UK."
The CWU said the cuts came on top of 500 job losses this year in branches.
General secretary Dave Ward said that the management of the Post Office had to face the facts that it was in crisis and heading for ruin.
"If they care about the future of the network they should resign in protest at the straitjacket government cuts have left them in," he added.
"With a cut in its funding from £210m in 2013, to zero in 2019, these job losses show that under [Business Secretary] Sajid Javid's leadership, the Post Office is heading the same way as the steel industry."Post Office Ltd is responsible for the operational matters of its business.
However, a Department for Business spokesperson said the government had "massively" invested in the Post Office.
It was not right to say there would be no government funding in 2019, the spokesperson added, since the Post Office would always need some subsidy to maintain the non-commercial and social elements of its network.
But it was "right" for the Post Office to operate "as much as it can without public subsidy".
"The company is striving to do that and succeeding - thanks to these efforts and the investment programmes funded by government, the subsidy needed to sustain the business has dropped from £210m in 2012 to £80m this year."