Total's boss says North Sea oil and gas 'has a future'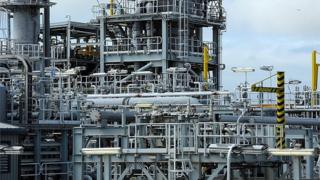 The boss of one the world's largest oil companies has said it will continue to invest in the UK and that oil and gas production in the North Sea has a future.
His comments follow an estimated 65,000 job losses in the industry and warnings about a collapse in investment.
"There is a future for the North Sea, no doubt about it," said Patrick Pouyanne, chief executive of Total.
He was speaking at the official opening of a new gas plant in Shetland.
The French oil boss said that while his company remained committed to the region, the industry needed to be "smart" in finding ways to maximise the UK's offshore potential.
Oil price
The cost of operating in the region would need to come down, he added, to enable firms to weather the storm of lower oil and gas prices.
"We need to be sure that breakeven will be able to support highs and downs. And today we are in the downs," said Mr Pouyanne.
As well as the estimated 65,000 job losses last year, tens of thousands more are expected in 2016.
In February, the industry body Oil & Gas UK warned that offshore investment could fall to £1bn this year, down from the £8bn average in recent times.
The latest plant opening is part of a £3.5bn scheme to open up gas fields in the deeper waters to the West of Shetland.
The vast Laggan and Tormore oil fields will supply 8% of the UK's gas needs, providing energy to two million homes, the company says.
The project was approved more than five years ago, when oil and gas prices were heading towards $100 per barrel.
But by the start of this year, when the first gas from the project began to flow, oil prices had fallen to below $30 per barrel.
'Ups and downs'
"The price is what it is," said Mr Pouyanne.
"The price is lower today... but we knew that when we invested there would be ups and downs. Our job now is to get the most out of these assets."
"We are still continuing to invest in additional discoveries that will be put on stream in 2017-2018 which will give additional revenues from this plant," he said.
Looking to the future, Mr Pouyanne warned that volatility in oil prices would continue.
"The price of oil is never stable," he said.
"We made a mistake in the industry when we were at $100 a barrel... we [thought] it is a sort of floor. Today people think there is a ceiling. There is no floor, no ceiling, it will move up and down."
But on gas, he believes the growth in supplies, particularly in the US, will dampen prices.
"We will face a low gas price...I suspect it will remain low for quite a long time," he said.
Mr Pouyanne paid tribute to the government for changes in North Sea taxation.
In the March Budget, Chancellor George Osborne cut the headline rate of tax on fields and introduced measures to encourage investment in exploration and infrastructure.
"Frankly what has happened in the last two years was quite impressive," he said.
You can follow John Moylan on Twitter @JohnMoylanBBC
---
What are the Laggan-Tormore fields?
The fields lie in a region geographically closer to the North Atlantic than the North Sea, about 77 miles (125km) north west of Shetland
Water depths there descend rapidly from an average of 120 metres (393ft) to more than 600 metres (1,968ft).
Until February, only oil was recoverable from the area
Now, with the pipelines and infrastructure in place, much of the energy which was previously inaccessible can be reached
The development has four subsea wells which will connect it to the new onshore Shetland Gas Plant
The plant has the capacity to handle 500 million standard cubic feet of gas each day
Following treatment at the plant, the gas will then be exported to the mainland
---