Apple worries weigh on US markets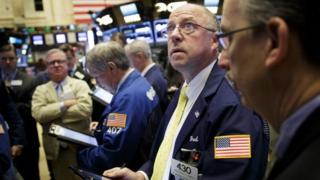 (Close): Concerns about slowing sales at Apple dragged the company's share price down on Thursday, causing losses on the wider Nasdaq index.
Apple was temporarily forced to give up its title of most valuable company and ended the day down 2.4%.
The tech-focused Nasdaq slid 23.35 points to 4,737.33, while the S&P 500 fell 0.35 to 2064.11.
The Dow Jones Industrial Average gained 9.38 points to 17,720.50 off the back of gains in oil prices.
Exxon Mobile and Chevron shares both climbed 1%, while the price of a barrel of US crude rose by 0.6% to $46.51.
Monsanto was one of the day's best performing stocks, following reports that Bayer and BASF are planning bids.
Shares in the world's largest seed producer were up 8.4%.
US fashion house Ralph Lauren said sales were down, but by less than expected. The better-than-expected corporate statement boosted its shares by 2.8%.