Takata shares fall on new recall reports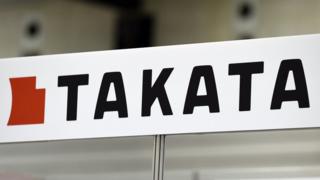 Takata shares fell as much as 3.5% in morning trade before recovering, as media reports suggested more recalls over faulty airbags supplied by the Japanese company.
Sunday's Nikkei newspaper said an additional 20 million Takata airbags would be recalled by car maker Honda.
Honda shares rose 1.6% in Tokyo, while Takata shares closed 0.3% down.
Takata said it would make a loss of about 13bn yen ($121m, £83m) last year due to recalls of millions of airbags.
Japan's benchmark Nikkei 225 index rose by 0.7% to close at 16,216.03, following last week's gains in the US.
In China, shares fell in response to the disappointing trade data released on Sunday, which showed that both exports and imports fell more than expected in April.
The mainland benchmark Shanghai Composite fell 2.8% to close at 2,832.11 points while Hong Kong's Hang Seng fared better. That market index closed up 0.2% at 20,156.81.
In South Korea, the Kospi index fell 0.5% to close at a one-month low, at 1,967.81 points.
Australia's benchmark ASX/200 rose 0.5%, closing at 5,320.70.