Wall Street hit by weak economic data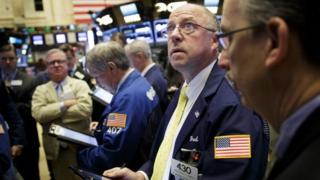 (Closed): Shares on Wall Street fell for a second day following the release of a report showing weakness in the labour market in April.
The report, from business services firm ADP, showed that 156,000 jobs were added in April, which was significantly fewer than analysts were expecting.
The Dow Jones Industrial Average fell 99.65 points to 17651.26.
The broader based S&P 500 lost 12.25 points to 2051.12, while the Nasdaq dropped 37.58 to 4725.64.
The report from ADP came out two days before the US Labour Department releases its April job figures.
"You see people take risk exposure off to prepare themselves for a possible worst-case scenario on Friday," said Michael James from Wedbush Securities.
Shares of US banks fell on Wednesday. JP Morgan closed down 1.6% and Goldman Sachs lost 2%.
Priceline shares tumbled 7.5% after the online travel firm warned that growth in bookings and profits would slow in its second quarter.
Shares of media giant Time Warner were flat after jumping 2.6% earlier in the day. The media company reported better than expected quarterly sales.