Poor earnings weigh on US markets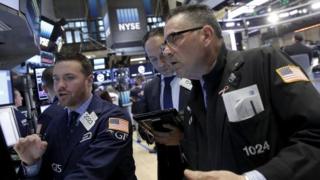 (Closed): US markets closed lower on Friday after a week heavy with quarterly earnings results and economic data.
Poor earning reports from healthcare and tech companies dragged share prices in those industries down.
The Dow Jones was down 57.12 points, or 0.32%, to 17773.64, while the broader S&P 500 fell 10.51, or 0.51%, to 2065.30.
The Nasdaq slipped 29.93 points, or 0.62%, to 4775.36.
Apple shares were down 1.14%. Earlier this week the company reported slowing demand for its iPhones.
Data storage company Seagate Technology fell 19% after the company reported profit slipped due to weaker demand in the sector.
Amazon shares were up 9.5%. The e-commerce giant reported profits of $513m for the first quarter, with sales jumping 28% to $29.1bn.
On the healthcare side shares of drugmaker Gilead Sciences closed 9% lower.
Embattled pharmaceuticals firm Valeant averted a debt default on $30bn of loans by filing its 2015 financial report, several months after it was originally due.
But the company's share price still fell 5.4%, as investors worried about the company's future.
Economic data released on Friday indicated that consumer spending and inflation remained weak last month, suggesting the Federal Reserve may struggle to justify raising interest rates anytime soon.
Consumer spending rose by just 0.1% in March, down from a upwardly revised 0.2% increase in February.
Inflation eased last month, with consumer prices rising at an annual pace of 0.8% compared with 1% in February. Excluding food and energy, core consumer prices rose 1.6%.