Japanese investors wary as central bank decision looms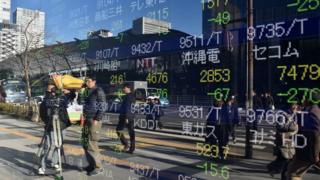 Japanese shares fell for a second day as investors remained cautious ahead of a key Bank of Japan meeting later this week.
The central bank's past efforts to spur growth have disappointed investors and there is expectation of more monetary easing from the meeting on Thursday.
Japan's Nikkei 225 index fell 0.5% to close at 17,353.28.
Embattled Mitsubishi Motors again saw its shares tumble, losing 9.6% over the day.
The Japanese car maker is engulfed in a scandal over falsifying fuel efficiency.
In China, the mainland benchmark Shanghai Composite closed 0.6% higher at 2,964.70 while in Hong Kong the Hang Seng ended up 0.5% at 21,407.27.
In South Korea, the Kospi index finished the day up 0.3% at 2,019.63, despite the country reporting its slowest quarter of economic growth in nine months.
In the January to March period the economy grew by 0.4% compared with the previous quarter, which was in line with expectations. On an annual basis, the economy expanded 2.7%.
In Australia, traders were equally cautious, and the ASX/200 index fell 0.3% to 5,220.64.