Chinese shares reverse early gains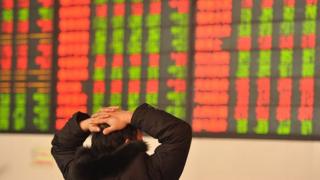 China's main share index, the Shanghai Composite, reversed early gains to close 2.3% lower at 2,972.58 points.
The sell-off gathered pace throughout the session, with analysts blaming concerns over the economy.
In Japan, the Nikkei edged higher despite a huge drop in Mitsubishi Motors after the carmaker warned of misconduct in fuel economy tests.
The Nikkei 225 index closed up 0.2%, or 32 points, at 16,906.54, while Mitsubishi Motors tumbled 15%.
In economic news, official figures showed that Japanese exports had fallen 6.8% compared with a year earlier.
Imports in turn dropped even more sharply, by 14.9% leaving the country with the highest trade surplus in five years.
In other Asian markets:
Hong Kong's Hang Seng lost 0.9% to 21,236.3 points
In Australia, the ASX/200 was up by 0.5% at 5,281.2 points
In South Korea, the Kospi index dipped 0.3% to 2,005.8 points