Weak tech earnings pull Nasdaq down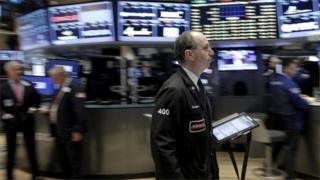 (Close): The Nasdaq composite fell on Tuesday as tech stocks slid following disappointing results from IBM and a weak growth outlook for Netflix.
The Nasdaq index fell 32.23 points to 4,537.09.
The Dow Jones rose 49.44 points to 18,053.6, and the S&P 500 added 6.46 points to 2,100.8, putting it within about 2% of its record high
IBM fell 5.6% after it reported its worst quarterly revenue figures in 14 years.
Shares in Netflix dropped 2.8% after the video streaming company issued disappointing subscriber growth forecasts late on Monday.
The company said it expected to add about 500,000 customers in the US and two million internationally during the current trading quarter ending in June.
Analysts had forecast the company would add 586,000 users in the US and 3.5 million globally.
Insurance firm UnitedHealth Group saw its share price climb 2.1%. The company said on Tuesday that it was pulling out of most state insurance markets set up under Obamacare because they were not profitable.