Primark owner AB Foods sees profits edge up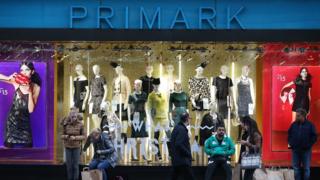 Primark owner Associated British Foods has reported a small rise in half-year profits, despite a dip in earnings at its budget fashion chain.
Underlying pre-tax profits at AB Foods rose 4% to £466m for the 24 weeks to 27 February, with sales down 2% to £6.1bn.
Revenues at the Primark chain rose 5% to £2.7bn, but operating profit was down 3% at £313m.
The company has said previously that Primark's sales were hit by warm weather over the Christmas period.
AB Foods also said that profits at the chain were affected by currency movements.
The company said early trading at its two Primark stores in the US had been "encouraging", adding the brand had been "well received". It plans to open six more stores in the US this year.
Chief executive George Weston said: "These results demonstrate underlying progress for all of our businesses in the period despite currency [movements].
"Good buying and selling space expansion continued at Primark, cost reduction and performance improvements contributed to a better result at Sugar, profits were well ahead at Ingredients, and profit margins improved at Grocery and Agriculture."
Sugar business
Revenue at its sugar business fell 9% to £843m, but once currency fluctuations had been taken into consideration it rose 3% and returned an operating profit of £6m.
The group said it remained focused on making substantial cost reductions in this area of its business.
AB Foods chairman Charles Sinclair said: "Low world prices and the remaining uncertainty expected from the withdrawal of EU sugar quotas in October 2017 underline the imperative to focus on low-cost production."
The company has now agreed to buy the remaining shares in Illovo Sugar, which is the largest sugar producer in Africa.
"Illovo already benefits from being one of the world's lowest-cost producers and its domestic markets are growing strongly." Mr Sinclair added.
Revenue in AB Foods's agriculture business for the first half fell 15% to £491m because of soft commodity prices and lower volumes in the UK feed operation.