Housebuilding firms hold back FTSE 100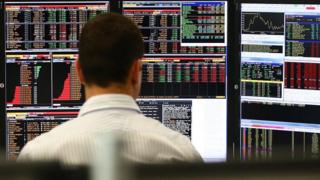 (Close): Shares in housebuilding firms held back the FTSE 100 after disappointing results from Persimmon.
Although the company said forward sales for next year were strong, the broker UBS said it "remained concerned about the longer-term sustainability of the very favourable market conditions".
Persimmon shares fell 6.1%, with Barrett Developments and Berkeley Group also falling.
Overall the FTSE 100 closed almost flat, up 0.72 points, at 6,363.61.
Luxury clothing brand Burberry shares dropped 3.6% after the firm warned of "challenging" market conditions and forecast declining sales.
Outside the FTSE 100, shares in Mothercare slumped 20.4% after the firm reported a 10.8% fall in international retail sales in the fourth quarter.
On the currency markets, the pound slipped 0.47% against the dollar to $1.4138 and fell 0.33% against the euro to €1.2558.