Japan's Nikkei breaks losing streak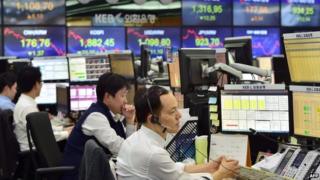 Japan's Nikkei index rose, breaking a seven-day losing streak, despite the yen continuing to strengthen.
The benchmark Nikkei 225 closed up 0.2% at 15,749.84, helped by a rebound in energy and healthcare stocks.
But shares in exporters were hit as the dollar weakened to 108.78 yen, a 17-month low, with the US currency falling following the release of minutes from the Federal Reserve.
In China, the Shanghai Composite fell 42.17 points, or 1.4%, to 3,008.42.
Hong Kong's Hang Seng closed up 59.38 points at 20,266.05.
Chinese telecoms equipment maker ZTE - whose shares are listed in Hong Kong - fell 11.7% as trading in its shares resumed for the first time since last month.
That was when the US Commerce Department imposed export restrictions on the firm, for allegedly violating US export controls against Iran.
South Korea's Kospi index pared earlier losses to close up 0.1% at 1,973.89.
Samsung shares rose nearly 2% in early trade, after the company said it was expecting a 10% jump in operating profit for the first quarter period. However, Samsung's shares fell back and closed down 1.5%.
In Australia, the benchmark S&P/ASX 200 finished 0.4% higher at 4,964.10.