Global economic uncertainty weighs on Fed outlook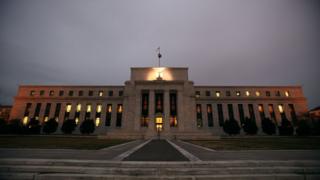 The risk of a global economic slowdown was a key factor in the decision not to raise interest rates in March, the minutes from the Federal Reserve's meeting show.
Fed members feared a slowdown could make it difficult to reach the bank's targets on employment and inflation.
The US central bank put up rates in December, saying it expected to raise rates four times in 2016.
It now says it expects to raise rates just twice this year.
Speaking in New York in March, Fed chair Janet Yellen said the bank should "proceed cautiously" before raising rates.
Members of the central bank voted to raise the Fed's key interest rate by 25 basis points, to between 0.25% and 0.5%, in December.
Since that decision, oil prices have remained low and global share markets have been highly volatile.
The Fed's next opportunity to raise interest rates will be at its meeting on 26-27 April.
Cautious approach
However, some members of Fed's Open Market Committee (FMOC) "judged that the headwinds restraining growth and holding down the neutral rate of interest were likely to subside only slowly," according to the minutes.
"In light of this expectation and their assessment of the risks to the economic outlook, several expressed the view that a cautious approach to raising rates would be prudent or noted their concern that raising the target range as soon as April would signal a sense of urgency they did not think appropriate."
Many members raised concerns that maintaining interest rates at such a low level left the Fed with very few tools if the economy came under pressure from shocks from abroad.
The Fed's minutes noted that the central bank had "little room to ease monetary policy through conventional means if economic activity or inflation turned out to be materially weaker than anticipated."
Nine of the 10 FMOC members voted in favour of maintaining the interest rate.
Esther George, head of the Federal Reserve of Kansas City, voted to raise the interest rate by 0.25%.
She acknowledged that risks to the global economy had increased recently and that financial markets had been "unusually volatile", but felt the Fed should focus on reaching its long-term objectives.