Asian markets flat in Wednesday trade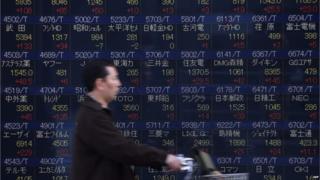 Asian shares were little changed on Wednesday, with investors cautious after sharp falls in US and European markets.
In Japan, the benchmark Nikkei 225 closed down 0.1% at 15,715.36, the seventh straight session of declines.
In Hong Kong, the Hang Seng index ended up 29.67 points at 20,206.67, while China's Shanghai Composite dipped 2.47 points to 3,050.59.
South Korea's Kospi index closed up 8.58 points, or 0.4%, at 1,971.32.
Australia's benchmark S&P/ASX 200 closed up 21.53 points at 4,945.91.
Currencies
The US dollar fell below 110 Japanese yen overnight, for the first time in 17 months. The dip in the dollar is partly due to expectations that the US central bank - the Federal Reserve - will not be increasing interest rates as aggressively as market-watchers had been anticipating.
Meanwhile, a strong yen is a liability for Japanese exporters. It also makes it difficult for the Japanese government to shore up its flagging economy.
Japan's central bank adopted a negative interest rate policy earlier this year. But so far that has had little effect on weakening the yen.
Japan will host the G7 meeting in May, which could provide an opportunity for finance ministers from the world's biggest economies to discuss the best ways to manage their currency policies.