Commodity stocks lead Wall Street lower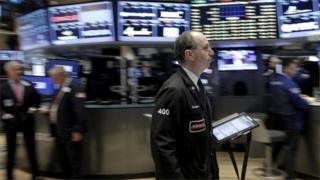 (Closed): Wall Street markets fell on Monday led by a slip in commodity related stocks.
The Dow Jones Industrial Average fell 55.75 points to 17737.0.
The S&P 500 slipped 6.65 points to 2,066.13, while the Nasdaq shed 22.75 to 4,891.80.
Oil prices fell as hopes for a deal to cut production by major producing countries receded. Brent crude fell 2.6% to $37.65 a barrel and US crude dropped 3.2% to $35.62 per barrel.
The slip in oil prices sent shares of petroleum companies falling. ConocoPhillips fell 1.7% and Anadarko Petroleum slid 2.7%.
Mineral-linked companies also had a poor day. Copper and gold firm Freeport-McMoRan dropped 4.8% and aluminium producer Alcoa lost 2.4%.
Monday's major winner was Virgin America. Its shares surged 41.7% after Alaska Air announced it would buy the company for $4bn.
Alaska Air shares fell 3.7%.