Wall Street climbs after Yellen speech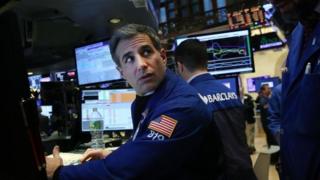 (Close): The S&P 500 closed at its highest level for the year boosted by remarks from Federal Reserve chair Janet Yellen.
Ms Yellen said that the Fed should "proceed cautiously" when it came to raising interest rates in a speech to the Economic Club of New York.
The S&P 500 index rose 17.96 points, to 2,055.01, while the Dow Jones climbed 97.72 points to 17633.11.
The tech-heavy Nasdaq index added 79.84 points closing at 4,846.62.
Microsoft climbed 2.1% and Intel was up 1.5%.
Shares of Apple rose 2.4%. Earlier the US Justice Department withdrew its legal battle to force Apple to unlock the phone of one the San Bernardino shooters.
JP Morgan stocks dropped 0.62%, while Citigroup fell 0.5%. Bank of America's shares fell 1.5%.
Spice maker McCormick saw its stock price climb 2.3% after it reported first quarter profit increased to $93.4m.