Japan stocks dip as unemployment rate rises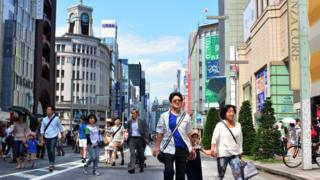 Japan's Nikkei 225 closed down 0.2% at 17,103.53 following a raft of official data that dented investor sentiment.
Japan's jobless rate rose slightly to 3.3% in February, up from 3.2% in January, despite labour demand remaining at the highest level in two decades.
The unemployment rate had been expected to remain unchanged at 3.2%.
However, analysts said Japan could see a fall in the jobless rate in the coming months.
"[Japan's] job-to-applicant suggests that the unemployment rate could fall below 3% in coming months even though the ratio held steady at 1.28 last month," said economist Marcel Thieliant.
Other official numbers released from Japan on Tuesday showed that household spending rose 1.2% in February compared with the same month last year, against expectations for a decline of 1.5%.
Retail sales rose 0.5% in February from a year earlier, lower than expectations for an increase of 1.7%.
Elsewhere, Hong Kong's Hang Seng index ended 0.1% higher at 20,366.30, while the Shanghai Composite fell 1.3% to end at 2,919.83.
South Korea's benchmark Kospi index was the one bright spot in the region, finishing the session up 0.6% at 1,994.91.
Australian banks
Stocks in Australia hit near one-month lows on Tuesday as banking shares fell on continued investor concern around bad debt.
After opening lower following an extended break over Easter, Sydney's S&P/ASX 200 closed down 1.6% to 5,004.5.
The country's biggest lenders dragged on the index, with ANZ losing 3.4% and Westpac closing 3% lower.
Commonwealth Bank and National Australia Bank also lost about 2.4%.
In the lead-up to the Easter break, ANZ said its exposure to mining-related firms suffering from lower commodity prices would likely lead to an increase in its bad debts.
The announcement was continuing to hurt investor sentiment this week, analysts said.