US stocks climb on oil outlook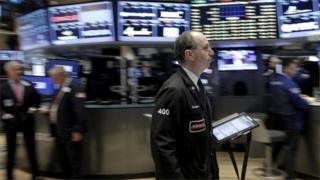 (Closed):Wall Street markets were mixed on Thursday, following a late day rally caused by a report that the number of oil exploring rigs had fallen.
The Dow Jones gained 13.14 points to 17,515.73
The S&P 500 fell 0.77 points to 2,035.94, while the tech-based Nasdaq index climbed 4.64 points, to 4,773.51.
Oil services company Baker Hughes reported the number of oil exploring rigs fell by 15. There are now fewer rigs than at any time since the 1940s.
West Texas crude fell $0.33 cents to $39.46 a barrel, while Brent crude lost $0.03 to $40.44.
The Dow's biggest risers were equipment maker Caterpillar climbing 2.2% and IBM which rose 1.8%.
Figures from the Commerce Department showed orders for durable goods fell 2.8% last month, due to a sharp drop in orders for commercial aircraft.
Yahoo shares were mostly stable, gaining just 0.2%, after a major investor called for the company's entire board to be replaced.