US markets stable after Brussels attack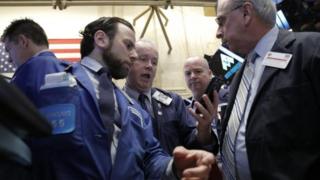 (Close): Wall Street stocks mostly recovered from Tuesday's early losses sparked by deadly terror attacks in Brussels.
The Dow Jones closed down 41.30 points to 17,582.57, while the S&P 500 slipped 1.80 to 2,049.8.
The tech-based Nasdaq rose 12.79 points to 4,821.66.
Airlines and travel stocks saw some of the biggest falls following news of the attacks at Brussels' international airport and a metro station.
"Considering the circumstances, equity markets are holding up pretty well," said Jack Ablin of BMO Private Bank.
Delta Air Lines lost 1.5% and United Continental was down 1.1%.
Online travel booking companies also fell. Priceline shares dropped 2.3%, while Expedia lost 1.7%. Shares of Trip Advisor fell 2.5%.
The day's biggest gainers were healthcare stocks. United Health rose 1.3% and Community Health rose 6.6%.
Drugmaker AbbVie's shares rose 2.7%