Burberry shares rise on takeover bid talk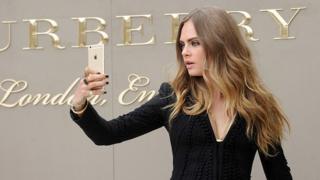 Shares in luxury clothing retailer Burberry have risen nearly 6% on speculation an anonymous investor might be about to launch a takeover bid.
Burberry is reportedly attempting to identity the mystery investor who has built up a stake of nearly 5%.
Shares in the upmarket retailer were nearly 6% higher at 1453p at midday.
The Financial Times reported that Burberry had asked HSBC, the custodian of the stake, to reveal the identity of its client.
Under City rules most shareholdings above 3% must be made public, but investment managers have a partial exemption that allows shareholdings of up to 5% to remain private.
The shareholding briefly went above 5% in February but was quickly reduced to below the threshold.
According to the FT, rival luxury groups such as LVMH or private equity investors could be behind the stake.
Burberry's market capitalisation has fallen in the past year to around £6bn amid concerns about falling demand from its key markets in Asia, particularly China and Hong Kong.
The company is reported to be keeping a close watch on the stake, but has yet to receive any takeover approach.