Old Mutual 'considering all options' amid reports of break-up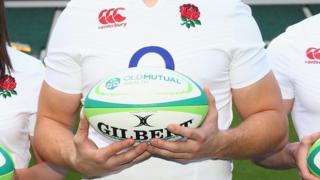 Old Mutual, the FTSE 100 insurance giant, has said it is "considering all options" amid reports it is planning a multi-billion pound break-up.
The company said it would provide an update on Friday into the strategic review started by new chief executive Bruce Hemphill in November.
It added "no decision" had been made after reports suggested it was planning to split into four businesses.
Old Mutual shares rose 7% to 192.9p by 12:00 GMT, valuing it at £9.5bn.
The group, which was founded in South Africa in 1845, is made up of a wealth management arm, an international asset management business, an emerging markets division, and a majority stake in South African lender Nedbank.
The prized Old Mutual Wealth unit, a sponsor of England rugby union, has received a takeover approach from private equity firms, according to reports citing unnamed sources.
Nedbank said it had been "engaging collaboratively" with Old Mutual on its strategic review.
'Real pressure'
Jonathan Roy, advisory investment manager at Charles Hanover Investments, said: "The market's really responding to the decisive action from the board."
Old Mutual has been put under "some real pressure" by African "currency routs" and concerns over emerging markets, he said. The company's shares have dropped 15% in the past year.
"Unfortunately they're being pushed into a situation where they have to act and actually look at some disposals to shore themselves up," Mr Roy said.