US stocks close at highest level since early January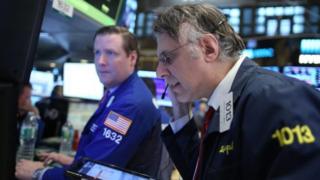 (Close): Stocks on Wall Street rose to their highest levels since early January on Friday, following better than expected US jobs figures.
The economy added 242,000 jobs in February, better than the expected 190,000, but earnings growth slowed.
The Dow Jones finished up 62.87 points at 17,006.77 while the broader S&P 500 put on 6.59 points closing the day at 1,999.99.
The Nasdaq index rose 9.60 points to 4,717.02.
Although the key non-farm payrolls grew, average hourly wages fell by 0.1% after a strong 0.5% increase in January.
The surprise fall seems to indicate that U.S. inflation remains muted, according to analysts.
Policymakers at the US central bank, the Federal Reserve, will be keeping a close eye on inflation to inform their decision as to when to raise interest rates.
"The wage number might be the silver lining, if you will, against a more hawkish Fed over the next few months," said Mohannad Aama, managing director of Beam Capital Management LLC in New York.
"Because the Fed has been really focused on inflation."