China stock market drops more than 6%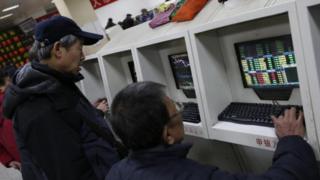 China's Shanghai Composite share index dropped more than 6% on Thursday, its biggest fall for a month.
The index ended the day down 187.65 points, or 6.4%, at 2,741.25 as concerns persisted over the country's slowing economy.
Shares in China have fallen by about a half since June last year, but have enjoyed a modest rally in recent weeks.
Analysts suggested Thursday's sharp fall was partly down to investors taking profits.
Investors are also said to be cautious ahead of a G20 meeting Shanghai.
"Market confidence is still fragile and economic prospects remain gloomy, so investors could be taking profit earlier than in previous years," Wu Kan, head of equities trading at Shanshan Finance, told the Reuters news agency.
The sell-off in China also affected Hong Kong, with the Hang Seng index closing down 1.6% at 18,888.75.
Nikkei rises
In Japan, shares in Sharp tumbled following news that the struggling electronics giant had accepted a takeover offer from Taiwan's Foxconn.
Trading was suspended ahead of the announcement, and when it restarted the shares closed down 15% at 149 yen.
Overall, the Nikkei index rose 1.4% to close at 16,140.34, while the broader Topix index rose 1.79% to 1,307.54.
In Australia, the benchmark ASX 200 index ended the day 0.1% higher at 4,881.18.
Shares in Australia's biggest casino company, Crown Resorts, fell heavily after it reported a slump in half-year profits, dented by a sharp slowdown at its Chinese operations.
The firm's Sydney-listed shares tumbled more than 9% on the profit report, but recovered some of that loss to trade about 4.5% lower in afternoon trade.