FTSE and pound fall amid fears over economy and Brexit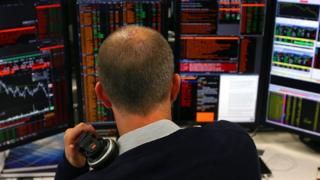 (Close): Shares and the pound both saw falls on Wednesday amid uncertainty over the global economy and the UK's position in Europe.
The FTSE 100 fell 101.04 points to close at 5,861.27 - a loss of 1.69%
The pound remained at seven-year lows.
Against the dollar, sterling lost a further 0.54% to $1.33946. Against the euro it fell 0.64% to €1.2642. The pound has lost 5% against the dollar in a week.
House builders were among the top gainers, with Persimmon up 2.27%. Barratt was up 1.69% after it reported a 40% gain in half year profits.
Miners continued their losing run for a second day with Anglo American, Glencore, Antofagasta and BHP Billiton all falling between 5-10%. BHP Billiton had posted a huge annual loss on Tuesday.
Shares in the LSE were down 3.73% after Tuesday's 13.7% rise, which was prompted by news of a possible merger with Germany's Deutsche Boerse.
On the commodities markets, Brent crude rose 1.2% to $33.67 a barrel.