Wall Street lifted by Groupon and ADT shares rise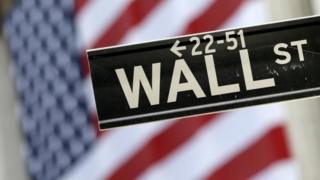 Wall Street stocks closed higher on Tuesday with technology stocks seeing some of the largest gains.
The Dow Jones industrial average rose 218.25 points, or 1.39%, to 16,192.09.
The S&P 500 jumped 30.57, or 1.65% to 1,895.35, while the Nasdaq climbed 98.44, or 2.27% to 4,435.96.
Despite an announcement from several oil producing nations that they would consider freezing production, oil price fell on Tuesday. Brent crude dropped 3.4%, while US crude fell 2.1%.
Russia, Saudi Arabia, Qatar and Venezuela agreed to maintain output at January levels if other oil producing countries did the same.
The announcement marked the first move between Opec and non-Opec producers to stem the price fall since the price of oil began to slide nearly 19 months ago.
ExxonMobil rose 0.23% and Apache gained 2.6%, while oil services giant Halliburton advanced 2.8%.
Wall Street's big winners were security firm ADT and deal site Groupon.
Shares in ADT closed nearly 50% higher after private equity firm Apollo Global Management agreed to buy the electronic security company $7bn.
Groupon rose 41% after e-commerce giant Alibaba disclosed a stake of 32.9 million shares after the market closed on Friday, making it the fourth-largest shareholder.
Apple and Amazon shares both rose 2.8%.
Apple announced earlier in the day that it planned to sell up to $12bn in corporate bonds.
Wall Street was closed on Monday for the Presidents' Day holiday.