Mining shares drag down FTSE 100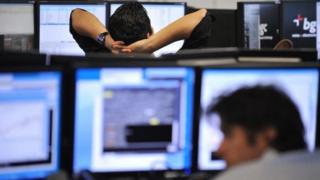 (Close): London's leading shares closed at a three year low, giving up early gains after being dragged down by mining stocks.
By the end of the trading day, the benchmark FTSE 100 index was down 57.17 points or 1.0% to 5,632.19.
The fall saw the index extending its decline after tumbling 2.7% on Monday.
The previous day's decline came as analysts said investors were turning against financial shares because of shaky global growth.
"There are worries about global growth, and fears of a recession are starting to emerge," said Richard Griffiths, associate director at Berkeley Futures.
Laith Khalaf, senior analyst Hargreaves Lansdown, said: "The Foostie is now wallowing at the level it stood at in 2012, with the usual suspects in the mining sector dragging the index down, after they survived Monday's sell-off unscathed.
"There's no doubt that confidence has been shaken, but the upshot is investors are seizing opportunities and buying more shares when stock prices are lower," he added.
Anglo American was the FTSE 100's worst performer on Tuesday, tumbling more than 11%, after its Kumba division reported lower profits. Antofagasta fell 9.48% after Goldman Sachs cut its rating on the stock to "sell".
On the commodities markets, Brent crude was down 2.8% to $31.95, while US light crude fell 0.8% to $29.45.
On the currency markets, the pound was up 0.51% against the dollar at $1.4505 and 0.66% lower against the euro at €1.2807.