London Whale boss fined £800,000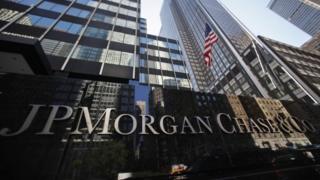 The former boss of the trader known as the London Whale, who ran up $6.2bn (£4.1bn) in losses at JP Morgan Chase, has been fined nearly £800,000 by the Financial Conduct Authority (FCA).
The FCA fined Achilles Macris for failing to be "open and co-operative".
Mr Macris was the head of JP Morgan's chief investment office in London and the boss of Bruno Iksil.
Mr Iksil became known as the London Whale because of huge bets he made on the financial markets.
Mr Macris was the main contact with the FCA's predecessor, the Financial Services Authority. According to the financial watchdog, he failed to raise concerns about a so-called synthetic credit portfolio in his division that began to suffer significant losses in early 2012.
On 28 March 2012, Mr Macris attended a meeting with the authority in which he disclosed a $200m loss, but provided reassurance about the portfolio.
In a subsequent phone call, the FCA said Mr Macris was aware losses had increased, but failed to provide the information.
"Instead, Mr Macris allowed an inaccurate impression to be given that there had been no material changes since the supervision meeting and that there were not wider causes for concern with the synthetic credit portfolio," it said.
In 2013, JP Morgan paid more than $1bn in fines to British and American regulators linked to the London Whale scandal after it was discovered that traders had attempted to cover up the full scale of the losses.
Mr Macris, who left JP Morgan in the middle of 2013, had challenged an earlier FCA judgement against the bank that he "deliberately misled" authorities.
He said: "Today the FCA has finally accepted that this allegation against me was utterly wrong.
"Now that the FCA has accepted that I did not deliberately mislead it, I have decided not to prolong what has been a drawn-out and burdensome process and have settled with the FCA, on the basis that there is no prohibition on my working in the regulated sector."