Wall Street hit by tech and bank falls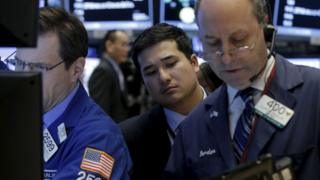 (Close): US stocks closed lower on Monday, building on losses from the end of last week, with technology and banking seeing the large dips.
The Dow Jones Industrial Average was down 177.9, or 1.1%, to 16,027.1, having recovered from a 401 point drop.
The S&P 500 shed 26 points to 1,853, while the Nasdaq fell 79.4 to 4,283.8.
Technology stocks were among the worst-hit, adding to Friday's losses, with Amazon finishing the day down 3%, while Facebook fell more than 4%.
Online ratings site Yelp slumped 11.3% after it reported a $22.2m (£15.3m) loss in the fourth quarter. Yelp also announced it was replacing its chief financial officer.
Shares of social media site LinkedIn bounced back by 1.5%, after falling 44% on Friday.
Last week, the company forecast lower-than-expected profits for the first quarter of 2016.
Banking shares have been among the hardest hit. Goldman Sachs shares fell 4.6% and Bank of America dropped 5.3%. Shares of Morgan Stanley lost more than 6%.
On the Dow, Nike shares dropped another 3.7% after Friday's 5% fall.
Shares of oil and gas company Chesapeake Energy plummeted 33.3%, after news reports that it had hired a law firm specialising in restructuring worried investors.
The company responded by saying the experts were brought in to help "strengthen its balance sheet" and Chesapeake had no plans to file for bankruptcy protection.