Eurozone growth forecast cut to 1.7%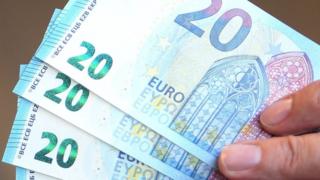 The European Commission has cut its forecast for economic growth in the eurozone this year.
It has cut its prediction for the 19-country bloc in 2016 to 1.7% from the 1.8% it had forecast in November.
That figure would still mark a moderate increase from the figure of 1.6% in 2015.
The Commission said government spending had been unexpectedly high because of the number of migrants arriving in Europe, which had boosted GDP.
But it warned that the crisis posed "major political challenges" that could undercut growth if not properly handled.
And vice-president Valdis Dombrovskis said: "Europe's moderate growth is facing increasing headwinds, from slower growth in emerging markets such as China, to weak global trade and geopolitical tensions in Europe's neighbourhood."
"It is important to continue structural reforms that can help our economies grow, withstand shocks in the future and improve job opportunities for our population."
The Commission cut its inflation forecast for this year from 1.0% to 0.5%, even further below the European Central Bank's target of about 2%. Consumer prices fell by 0.3% in 2015, largely as a result of the fall in energy prices.