Surge in oil prices see Asia markets up on Thursday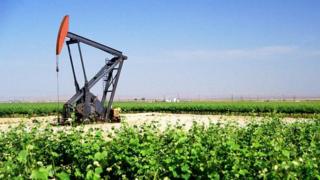 A surge in oil prices helped lift investor confidence across most markets in Asia, with energy-related stocks largely higher.
Brent crude rose 8.3% to $35.43, while West Texas crude - the US benchmark - jumped 9.4% to $32.68.
Australia's stock market was boosted by energy shares - the S&P/ASX 200 closed up 2.13% to 4,980.40.
Rio Tinto shares finished up almost 9% and BHP was up more than 8%, while Santos shares rose more than 13%.
Worries over oil prices had dragged much of Asia into negative territory over the last two days.
In Hong Kong, the Hang Seng gained 1% to close at 19,183.09, while the mainland's benchmark Shanghai Composite ended the session 1.5% higher at 2,781.02.
South Korea's Kospi index was also in positive territory on Thursday and closed up 1.26% to 1,914.44.
Bucking the regional trend, Tokyo's Nikkei 225 closed down 0.85% to 17,044.99.
Shares in Japanese exporters were down after the yen strengthened against the US dollar.
Toyota fell close to 2% and Nissan shed more than 1%.
A stronger yen is not good for Japan's big exporters, as it makes their products more expensive to buy for overseas customers. It also hurts their profits when they repatriate overseas earnings.