Wells Fargo to pay $1.2bn over mortgage insurance scam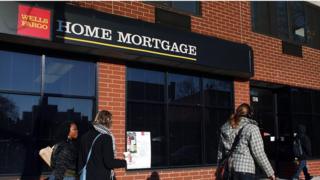 Wells Fargo has agreed to pay US authorities $1.2bn (£822m) to settle claims it improperly approved loans for federal mortgage insurance.
The US bank was accused of improperly certifying government-backed home mortgage loans between 2001-2010.
The US Justice Department sued the bank in 2012, after paying out insurance when the loans went bust.
As a result of Wednesday's settlement, Wells Fargo announced it would reduce its 2015 earnings by $134m.
The Justice Department argued Wells Fargo should not have certified the loans as eligible for the federal insurance scheme because it knew they did not meet the required standards for certification.
Other banks including Bank of America, Citibank and Deutsche Bank have already reached settlements related to similar charges.
Shares of Wells Fargo were down 3% by midday.