Levy charged to tackle loan sharks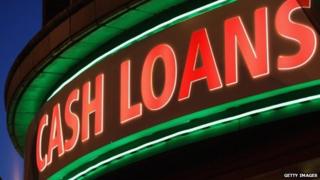 Thousands of loan providers in the UK will be required to pay a levy to fund teams tackling illegal money lending, the government has announced.
The teams, which are currently funded through trading standards budgets, will be paid for by the levy on all consumer credit firms.
Some 300 illegal money lenders have been prosecuted by the teams in England and Wales.
The levy will pay for their work from 2017-18.
"Illegal money lenders prey on some of the most vulnerable people in society, causing their victims immense misery," said Economic Secretary to the Treasury Harriett Baldwin.
"That is why we act now to ensure that illegal money lending teams have the funding they need to continue to protect consumers and prosecute loan sharks."
Officers investigating illegal money lending in England and Wales have already secured rulings to write off more than £50m of illegal debt, the Treasury said.
Loan shark fears
Chancellor George Osborne had previously announced that he planned to make the payday lending industry help to pay for policing illegal money lending.
It is understood that whole of the consumer credit industry will have to pay the levy, not just payday lenders.
The levy will be paid by consumer credit across the UK, and also be spent on tackling illegal money lending across the UK.
Fears have been raised that a crackdown on payday lenders, who are regulated and licensed by the City watchdog, could lead to some people being turned down for loans following stricter affordability checks and turn to loan sharks instead.
Russell Hamblin-Boone, chief executive of the Consumer Finance Association, which represents a number of payday lenders, said: "The CFA and our members have long been supporters of the Illegal Money Lending Team.
"All firms operating in the financial services sector have a responsibility to protect consumers and ensure that the Illegal Money Lending Team is funded long into the future. A levy administered by the Financial Conduct Authority funded from across the financial sector is the correct way to go."